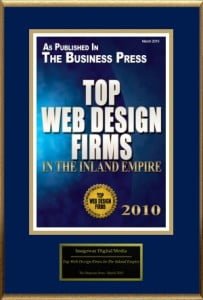 Imageway's founders got their start before the Internet existed. The first on-line service we offered was a Commodore 64 (later Amiga) BBS by the name of Future Frontier back in 1991 located in Riverside California. We actually use the same BBS phone number today that we had back in 1991, except for the area code which we were forced to change from 909 to 951. Instead of a 2400 baud modem answering the phone line, you will now be greeted by our professional Imageway VOIP internet phone service. Future Frontier BBS closed in 1998 with the rise of the Internet and the web browser.
On 08/03/2000 our prior passion for running a BBS was reincarnated into Imageway, with the goal of providing the best Internet web and email hosting services possible. To this current day we enjoy offering the best on-line services available, and continue to work on improving and fine tuning our service offerings. With over 20 years experience in the computer services field, we have been around longer then most Internet businesses operating today.
The Imageway Digital Media you see today is a full service design studio that is committed to creative excellence in the areas of web design, graphic design, website hosting, email hosting, and computer consulting. It is our goal to provide in person local web development services to business within the Inland Empire (San Bernardino and Riverside Counties) and Orange County. Our business driven interpersonal approach separates us from the typical web development companies. For over 20 years, we have built a reputation of creating an unparalleled return on investment for our clients.
Our approach is unique compared to other Internet design firms. We pride ourselves in creating a close relationship with our customers. Since we serve the local area, we can meet with our customers in person. During such meetings we can walk you through the whole process so we can figure out exactly your needs. These in person meetings allow us to work with our customers to understand their business, offer a solution that meets their needs, and lastly find a solution that falls within their budget. We make sure every customer is happy with the final product. We are there from the start of the project, until completion.
Lastly, we are able to offer specialized hosting solutions since we own and operate all of our hosting servers. We do not resell hosting solutions like many other web design firms. Having this control allows us to secure and configure our systems exactly to our customers' needs. Imageway utilizes open standards as much as possible, therefore our customers are not locked into a proprietary system. Many other hosting companies tend to lock you into their services by using proprietary software and connection methods. Our goal is to provide you with a stable, secure, and feature rich hosting experience.
All of our specialized services include unparalleled customer service. Our entire staff is highly experienced in all the service areas we provide, and our customers have direct access to these employees.
Experience the Imageway difference today!