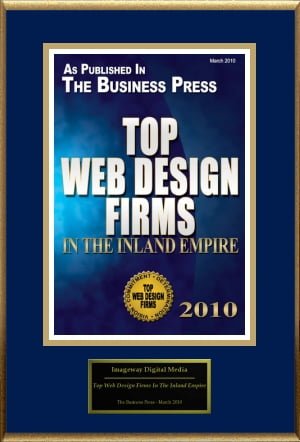 Fontana CA Web Design – Imageway Digital Media is committed to providing a website design solution to your business that fits exactly your needs. We differentiate ourselves from other web design companies by developing a relationship with our customers, and personally meeting with them to figure out what needs they require for their business to flourish online. Imageway proudly serves locally the Southern California Inland Empire (which includes Riverside and San Bernardino Counties) and Orange County.
Imageway Web Design Services can provide your business access to our design experts who can help you create a professional website for your online business presence. If you have an existing website, we can help modify it in anyway you would like. We specialize in the use of Content Manage Systems (CMS) such as WordPress, CMS Made Simple, Concrete5, Joomla, Drupal, Zencart, Prestashop, and SunShop. We will work with you to get your design ideas, and create a final product that is exactly what you want.
So what is the advantage of going with a local web design company, rather then a larger company that services the world? By providing local services, we can meet with our customers in person. During such meetings we can walk you through the whole web design process so you can figure out exactly the content you want to put on your website. In addition the Imageway representative will be able to take written documents or pictures the customer might want scanned, or we can go to a business location to take digital pictures of items that need to be displayed on the website being developed. A local knowledgeable Imageway representative will work with you through the whole design process of your website, not a person located 1000's of miles away from your place of business.
Click here for a free quote